Ask Siri About 'Game of Thrones' and You'll Get a Sassy Response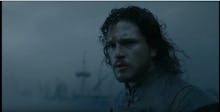 With the sixth season of HBO's Game of Thrones just around the corner, fans anticipate answers to lingering questions after last season's chaotic finale. Namely, what the hell happened to Jon Snow, and will he be alive this season? While it's a difficult predicament with no concrete answer, you can always turn to Siri — Apple's friendly artificially intelligent bot that's always willing to impart some advice or assistance. 
After all, it's clear she watches Game of Thrones in whatever way a bot can, based on this answer. 
Unfortunately, Siri's answers about Jon Snow's fate are less than encouraging — though admittedly quite varied and creative. 
Even so, the season six premiere of Thrones, and much-needed answers, are inevitable in less than two weeks, just like the equally long winter set to descend upon Westeros. Right, Siri? 
Read more: The New 'Game of Thrones' Trailer Features More White Walkers and an Ever-Sassy Tyrion