This Trump Family Sitdown Gives a Sneak Peek at His Potential General Election Strategy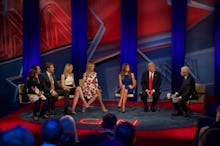 Donald Trump: Family Guy.
The Republican presidential frontrunner's wife and kids made their case for his candidacy in a CNN town hall Tuesday night, holding him up as a loving husband and dad who respects women, hard work and fair play.
The hourlong broadcast served as one of the best demonstrations to date of how the bombastic Trump's brood could be effectively deployed to blunt critics who say he's just a self-serving rogue with a potty mouth.
Read more: 5 Vicious Things Donald Trump Has Said About His Potential Running Mates
The telegenic family — daughters Ivanka and Tiffany, sons Eric and Donald Jr. and wife Melania — smoothly testified that Donald Trump at home is a very different man from the fire-breathing, insult-spewing candidate most Americans have come to know.
In a pivotal moment of the program, Donald Trump's daughters addressed a questioner who asked about their relationship with their father and his attitude toward women in general vis-a-vis his inflammatory past comments.
Ivanka Trump, mother of a newborn, said:
I think the way he raised me, the way he raised Tiffany, it's a testament to the fact that he believes in inspiring women, empowering women. He always taught me that there wasn't anything that I couldn't do if I set my mind to it... And I don't think that's the message a father would relay to a daughter who he didn't believe had the potential to accomplish exactly what her brothers could.
Donald Trump's wife also chimed in, saying he's an equal opportunity fighter when it comes to political attacks:
"He treats everyone equally. So if you're a woman and he attacks, they attack him, he will attack back, no matter who you are. We're all human, and he treats them equal as men," she said.
"So I think that's very important. He doesn't make a difference," Melania Trump continued. "And he encourages everybody, if you're a man or a woman."
Tiffany Trump, 22, who is supporting her father's presidential aspirations but has been somewhat less visible on the trail than her older siblings, chimed in with equal enthusiasm:
I think my father, since I've been a little girl, has always just inspired me and had so much faith in me to just be the best person I can be, the best woman I can be. And, you know, every time I speak to him on the phone, whether it be at school or when I'm with him in his office, or, you know, in Palm Beach, it's just — he wants us to do the best, and he has the utmost faith that we can accomplish whatever we set our minds to just as well as men, if not better. ... I just truly feel that my father is the best father, the best husband that he could be.
While their father looked on with silent pride, Donald Trump's sons also spoke warmly of his attentive — if nontraditional — parenting style, which they said involved more trips to construction sites than games of catch. They also played up their father's work ethic and business prowess.
The program — the second of three CNN is running with the families of the remaining GOP contenders — featured some signature Donald Trump bluster, of course, but also allowed him to speak in a deeply personal way of how's he counseled his children to stay away from addictions of the kind that felled his late brother, who was an alcoholic.
Donald Trump's youngest child, 10-year-old Barron, didn't appear on stage, but the televised town hall allowed Melania Trump to speak of her role as a mother trying to instill morals and values in her son.
Balance sheet: Broadly, the character witness role of Donald Trump's family could go a long way toward balancing the candidate's own rhetoric if he ends up the GOP nominee in a general election battle with Hillary Clinton.
Their advocacy could humanize and give him more credibility among doubtful women and overall frame him as more nuanced than the (somewhat self-cultivated) caricature of a ruthless businessman-turned-politician who spews invective and untruths with equal ease.
And Team Trump clearly knows it.
"To me, the most successful people have always been — the people that seem to be the happiest are people with a great family," Donald Trump said during the broadcast ".And, you know, you can see I have a wonderful family, and it's been very important to me."
"I think it's been a real stabilizing factor," the billionaire mogul added, in one of his more humble moments. "I don't think I would have had the kind of success I've had without my family."