Bernie Sanders Just Won His First Senate Endorsement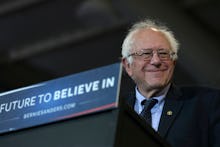 Get the five stories that will challenge you to rethink the world by signing up for MicCheck Daily.
With less than one week to go until a potentially pivotal primary in delegate-rich New York, Democratic presidential hopeful Bernie Sanders rolled out his first endorsement from a Senate colleague on Tuesday, winning the support of Sen. Jeff Merkley of Oregon.
"No decision we make as Americans more dramatically affects the direction of our country than our choice for president. He or she is more than the manager of the executive branch, commander in chief or appointer of judges," Merkley wrote in a New York Times op-ed announcing his endorsement. "The president reflects, but also helps define, our national values, priorities and direction."
Read more: Hillary Clinton Tears Into Bernie Sanders for Not Stepping Up on Gun Control
Acknowledging that Sanders faced an "uphill battle" against frontrunner Hillary Clinton, Merkley wrote that he had nevertheless decided to cast his lot with the progressive insurgent because Sanders is most "boldly and fiercely addressing the biggest challenges facing our country."
Hailing Sanders' stances on tackling income inequality, opposing free trade agreements, confronting climate change, ending the role of big money in politics and taking on big banks, Merkley said that Sanders' policy proposals would help the country "more fully realize our founding principles of hope and opportunity for all."
While lauding Sanders' progressive bona fides, Merkley steered clear of criticizing Clinton, who hopes to effectively dispatch Sanders with a strong victory in the April 19 Democratic primary in New York.
"From her time advocating for children as a young lawyer to her work as first lady of Arkansas and the United States, and as a senator and secretary of state, Hillary Clinton has a remarkable record. She would be a strong and capable president," he wrote.
The state of the race: Surveys show Clinton is the favorite heading into the Empire State contest on Tuesday, with the RealClearPolitics polling average giving Clinton a 53% to 39% advantage over Sanders, a Brooklyn native who hopes to deal a potentially game-changing upset to the onetime New York senator.
A victory in her adoptive home state would help Clinton bounce back from a recent string of defeats to Sanders, who has won seven of the past eight nominating contests. Even in the wake of those losses, though, Clinton boasts a large delegate lead over Sanders.
Including superdelegates — party elites who are free to change their preferences at any time — Clinton leads Sanders 1,758 delegates to 1,069, according to RealClearPolitics. Securing the Democratic nod requires 2,383 delegates.
With Merkley's endorsement, Sanders now has one more superdelegate in his corner.