Men Are Predictably Saying the New Women Only Rideshare App Is Sexist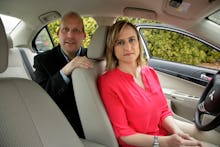 The female-only ridesharing app Chariot For Women still has a few days before its April 19 launch in Boston, but men are already calling it out for being "discriminatory." In an attempt at empowerment and safety, only women (cisgender and transgender), children under 13 years old, and non-binary people can ride or drive (excluding children for the latter). 
Former Uber driver Michael Pelletz came up with the app after having a negative encounter with a very drunk male rider, and when his wife expressed fear over becoming a female Uber driver, according to LAist. Plus, sexual assault in car services and taxis is a widespread and real problem. 
Read more: Chariot, an Uber-Like Service Just for Women, Promises Assault-Free Ride-Sharing
Men have now started complaining about the well-intentioned but exclusive car service, with most comments calling Chariot For Women something along the lines of "alienating" and "sexist." Some argue that the app promotes the idea that "all men are dangerous predators."
Others clarify that it's illegal to discriminate against gender, and compare it to racial discrimination to make their point. "I see this as no different than someone starting a car service by and for whites just because some may fear other races," one Facebook user wrote.
"This app should be called rides for scared little bitches who are afraid of men," a different Facebook user wrote. 
Others point out that "not all female passengers are 'safe.'"
But come its launch, Chariot For Women may actually face legal challenges for its hiring policy, according to Tech Crunch. In 2014, the car service SheTaxis, which had a similar mission, had to close down because of basically identical discriminatory claims, ABC 7 reported. 
"We're doing this because there is such inequality when it comes to security that afflicts driver and rider due to gender," Pelletz told Tech Crunch. "Women are across the world the ones being harassed and assaulted by male drivers. In my eight months as an Uber driver, I didn't hear any negative feedback from men."