Netherlands Considers a Ban on Gas-Guzzling Car Sales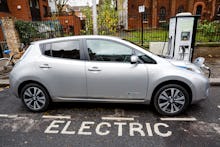 Climate change is threatening the planet — and gas-guzzling cars are a big culprit. 
In Europe, cars account for 12% of carbon dioxide emissions, which are linked to rising global temperatures. To help transition drivers away from carbon dioxide-belching cars, Netherlands politicians are considering banning the sale of gasoline- and diesel-powered vehicles altogether and allowing electric and hydrogen-fueled cars only. 
Dutch Labor Party representatives have put forth a motion that would ban cars that give off emissions by 2025, Digital Trends reported. Not even hybrid gas-electric cars would be allowed — only electric and potentially hydrogen fuel cell cars could be sold in the Netherlands if the motion passes. 
The representatives who authored the legislation are also keen on autonomous vehicles, according to Digital Trends. They believe self-driving cars could help reduce traffic problems in the region.
So far, the Dutch Parliament's lower house has approved the eco-friendly car proposal, Digital Trends reported. However, many Dutch politicians don't expect it to become law, saying the change is too big and too fast, and that it risks leaving some citizens behind. 
Though this particular proposal may be voted down, the Netherlands is part of a global pact to only sell zero-emissions vehicles by 2050, according to the Week. 
In December at the United Nations Climate Change Conference in Paris, the Netherlands signed a global accord with 12 other signatories promising to not only promote more eco-friendly means of transit, but to stop the sale of cars emitting carbon within the next 35 years. Germany and Norway were among the other countries to sign the agreement, alongside eight U.S. states.
While bold agendas to minimize fume-exuding cars may ruffle some feathers, bringing down car emissions is an important component of addressing climate change.
Correction: April 13, 2016