"F**K U O'Reilly": Larry Wilmore Has a Brilliant Response to the Host's Racist Tirade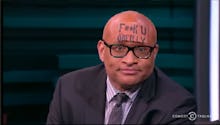 This is one way to use your noggin.
On Tuesday night's episode of The Nightly Show, host Larry Wilmore responded to a segment on the Monday night episode of the O'Reilly Factor in which host Bill O'Reilly had a little chat with 2016 Republican presidential frontrunner and business mogul Donald Trump. 
The topic was how Trump would win over black voters. Trump's answer: jobs. 
"How are you going to get jobs for them?" O'Reilly asked Trump. "Many of them are ill-educated and have tattoos on their foreheads, and I hate to be generalized about it but it's true. If you look at all the educational statistics, how are you going to give jobs to people who aren't qualified for jobs?"
Wilmore, a man with a job, had a response for O'Reilly.
"Just so you know, Bill O'Reilly, I'm one of those rare black people who don't have a forehead tattoo," Wilmore said. "But if I did, it'd be this." 
Wilmore pulled out sticky tattoo that said "F**K U O'Reilly," and then asked his viewers to tweet him pictures of their own forehead tattoos using the hashtag #ForeheadSolidarity. 
And then the tweets rolled in...
People even got their pets involved. We're assuming no animals were harmed. 
O'Reilly's statement also has no basis in actual truth. Black women attend college at a higher rate than any racial or ethnic group, while black men are enrolled in college at a higher rate than white men. Black women are now among the most educated group in America. 
So, O'Reilly, you mad? 
h/t RawStory