6.9-Magnitude Earthquake Just Hit India and Myanmar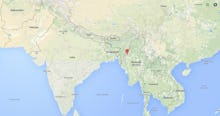 A powerful earthquake, measuring 6.9 magnitude, struck the border of India and Myanmar on Wednesday at 7:25 p.m. local time. Tremors were reportedly felt across the region in Kolkata and as far as Delhi.
The United States Geological Survey reported the magnitude of the earthquake in a tweet and identified it was 74 kilometers (45 miles) southeast of Mawlaik, Myanmar.
British seismologist Steven J. Gibbons tweeted an image of the earthquake's seismic signals. 
Given the earthquake actually occurred well below the Earth's surface — approximately 134 kilometers (83 miles) below, according to BNO News — the event is not as devastating as it could have been. Thus far, there have been no casualties reported.
This story is breaking and will be updated. 
April 13, 2016, 11:09 a.m. Eastern: This story has been updated.