Deutsche Bank Responds to North Carolina's HB2 "Bathroom Bill" By Halting Expansion Plans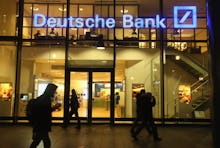 The seemingly unending series of corporate opponents of North Carolina's newly enacted "religious freedom" law — which so far has included pharmaceutical manufacturers, PayPal, tech marketing giant Salesforce and porn site xHamster — now includes one of the world's largest banks.
Deutsche Bank, the largest bank in Germany, has halted plans to expand a 900-person software center in the city of Cary by 250 employees amid damage control efforts by Republicans who fear economic reprisal over the law's anti-LGBT provisions, reported NBC News.
As passed in March, House Bill 2 made it illegal for trans people to use bathrooms not matching the biological sex assigned on their birth certificate, revoked state employees' ability to sue for discrimination in state courts and preempted all local and county ordinances protecting LGBT people from discrimination, according to Mother Jones. Numerous critics have more or less fairly charged state Republicans with sending the signal that LGBT people are unwelcome in their state.
Supporters of the law are increasingly showing signs of anxiety.
On Tuesday, Republican Gov. Pat McCrory (who signed the law) signed an executive order to "clarify that sexual orientation and gender identity are included" in the state's equal employment opportunity policies. He also said he would fight for the legislature to reinstate workers' rights to sue in state court.
The News & Observer reported corporate backlash to HB2 may have seriously damaged North Carolina's economic prospects. Wake County Economic Development executive director Adrienne Cole told the paper her county had lost five "economic development projects included an IT company and a clean energy company and ranged in size from 75 jobs to one that could have brought 1,000 jobs to the Triangle [region]."