This Electric Fork Will Zap Your Tastebuds With a Salty Flavor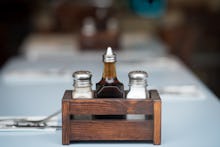 Yeah, yeah, yeah, we know. Too much salt isn't great for you. While the Food and Drug Administration suggests a healthy 2,300 milligrams of sodium per day, some of our favorite foods — say, a cartoon of Chinese food, which alone can hold 2,348 milligrams of sodium — practically demand it. 
But after a promising two-day trial, researchers at Tokyo University may have come up with a solution: an electric fork that sends a salty taste to your mouth with just the push of a button. According to Mashable, researchers teamed up with an advertising firm to launch a pop-up restaurant with a completely salt-free menu. 
Under normal circumstances, items like saltless salad, saltless pork, saltless fried rice, saltless meatloaf and saltless cake would sound less than appealing, but with the help of the "electro fork," which can also add sour and bitter flavors, diners could give their formerly bland meals a tasty boost. 
The lab's website advises thinking about electricity as your seasoning.
Read more: There's Good News for People Who Love Salty Food
The electro fork isn't on the market yet, but if it ever is, health experts likely won't be encouraging anyone to swap out their table salt just yet.
Reducing sodium intake can help maintain a healthy blood pressure and curb hypertension, though some experts have said recommendations for sodium intake can often be too low, which increases the risk of cardiovascular disease. 
Still, the innovation may be pretty exciting for foodies and techies alike.
Reads the lab's website, "The future of eating starts here."