In One Tweet, Ted Cruz's Old Roommate Hilariously Called Out Cruz's Stance on Masturbation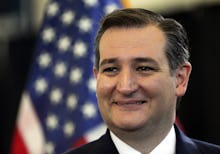 Get the five stories that will challenge you to rethink the world by signing up for MicCheck Daily.
Here's a kind of weird and upsetting fact for you: Back in 2007, Republican Presidential candidate and Texas Senator Ted Cruz, who was working as a Texas solicitor general, fought to uphold a law that banned the sale of sex toys in Texas, Mother Jones reported on Wednesday. And part of Cruz's team's legal argument was that there is no legal "right to stimulate one's genitals." Well then.
Cruz wound up losing his motion to get a hearing in the appeals court, and Texas eventually dropped the case (meaning that the sale of dildos, vibrators, and other so-called "obscene" devices was no longer illegal in Texas). But 9 years later, Cruz's anti-sex toy crusade is back in the media, and this time, Cruz's former Princeton roommate weighed in.
"Ted Cruz thinks people don't have a right to 'stimulate their genitals.' I was his college roommate. This would be a new belief of his," Craig Mazin, who lived with Cruz in freshman year, tweeted on Wednesday morning.
This isn't the first time Mazin has bashed Cruz — back in 2013, he told The Daily Beast, "I would rather have anybody else be the president of the United States. Anyone ... I would rather pick somebody from the phone book," and Mazin has referred to Cruz as "a nightmare of a human being" on Twitter, according to Mother Jones. But this latest tweet about Cruz's, well, "right to stimulate his genitals" reaches a whole new level. 
Now that's in all of our heads, Mazin. Thanks for that.
Read more: Ted Cruz Has Been Officially Rejected By New York