The Nation's First Marijuana-Funded Scholarship Is Available in Colorado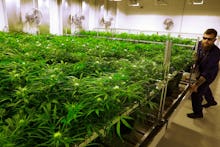 Colorado has seen significant impacts to its economy since decriminalizing marijuana, which allows citizens to purchase the drug like they would an alcoholic beverage. Now, for the first time ever, the taxes from marijuana sales will be used as scholarships for graduating high school students in Pueblo County. 
"College debt has surpassed even credit card debt in America," Pueblo County Commissioner Sal Pace said in a statement. "Middle-class families find it hard to send their kids to college, a basic cornerstone of the American Dream. We're aiming to help alleviate that problem."
Twenty-five scholarships will be given out, and Pueblo County students will be given the opportunity to earn one of the $1,000 scholarships. Among other requirements, the graduating seniors must demonstrate financial need and have a 3.0 GPA or greater to be eligible to apply, and recipients have to clock 40 hours of community service.
In 2015 voters passed legislation that created an excise tax, or taxes paid on specific goods, on marijuana exported from the county, according to the Denver Channel. Some of those taxes help fund the scholarships.
Beverly Duran, executive director of the Pueblo Hispanic Education Foundation, said she's pleased to see the marijuana tax money going toward education.
"We just see such a great need in our community and we can never scholarship as many students as we would like to," Duran told KKTV 11. "So this money is going to have a huge impact on the number of students that we can help in affording college."
The scholarship application can be found here.
Read more: Colorado's Weed Tourists Are Also Keeping Its Hospitals in Business