Parker Posey Tweeted a Trans Joke and Twitter Is Calling Her Out for It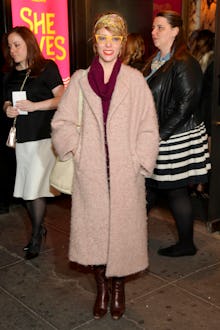 Parker Posey has the attention of the Twitterverse, and not in a good way. The offbeat indie actress sent out a tweet on Wednesday that drew the ire of her followers for its transphobic undertones. The caption reads, "I'm driving around all day today as a man! I love the Internet and can't believe what you can do here!" She edited the photo to say "Insta-TransGender" at the top. 
With the implication that being transgender is a filter you can turn on and off, people were not receptive to the failed attempt at humor.  
Posey's quirkiness is usually admired, and hopefully this is the first and last time the actress makes a transphobic slight. If not, Twitter is waiting in the wings to call her out.