Watch Tyler Oakley and Nyle DiMarco Teach You How to Flirt in Sign Language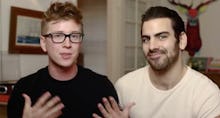 Suppose you're a gay man. Suppose you find yourself at a gay bar, and there's a hot guy there who happens to be deaf. You want to entice him back to your place — but how?
Maybe check out this video!
YouTube maven Tyler Oakley has teamed up with Dancing With the Stars contestant/supermodel Nyle DiMarco to produce a handy guide to flirting in sign language.
Here are some helpful GIFs if you ever find yourself in the above scenario:
Oakley and DiMarco made the clip for a good cause: It's an effort to promote We Are Able, a new campaign from the folks at DoSomething.org aiming to "reduce the stigma around disability." 
DiMarco, who is deaf and identifies as sexually fluid, explained in the video why he's so passionate about the campaign.
"Accessibility is important because it is inclusive, which means more people are involved," he said in sign language. "It makes them feel important. I'm always inspired every time I meet hearing people and find out they know sign language."
Check out the full clip below.
h/t GayStarNews
April 14, 2016, 4:08 p.m. Eastern: This story has been updated.