Jared Leto Sent His 'Suicide Squad' Co-Stars Many Weird Gifts, Generally Was Pretty Extra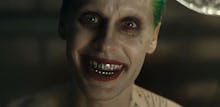 Do not invite Jared Leto to your White Elephant party — unless it's the kind of White Elephant party where used condoms are a fun gag, not something to make you gag.
On the set of Suicide Squad, the upcoming DC antihero movie, Leto apparently got very into playing the Joker. Over the past few months, leading up to the movie's August 5 release date, more and more stories have surfaced about Leto's behavior on set and special gifts for co-stars — all leading up to Wednesday's new report that he sent Will Smith, Margot Robbie and Adewale Akinnuoye-Agbaje used condoms and anal beads.
Read more: The New 'Suicide Squad' Trailer Shows the Joker and Harley Quinn Like Never Before
"I did a lot of things to create a dynamic, to create an element of surprise, of spontaneity and to really break down any kind of walls that may be there," he said in an E! Online interview. "The Joker is somebody who doesn't really respect things like personal space or boundaries."
Anal beads and used condoms weren't the only things he sent co-stars, however. He also sent a pig corpse and a live rat. He also just generally sounds pretty extra every time he talks about the experience of shooting the film.
It's not like going a little over the top isn't a proven tactic for great work. Leonardo DiCaprio won an Oscar for sleeping in animal carcasses and eating raw organs on the Revenant set, and he didn't even hit his peak in the process. But something about Leto's antics reads a bit more dangerous. Twitter users seem to agree, too:
Think of it this way: DiCaprio didn't force his co-star Tom Hardy to eat raw bison liver. He ate the liver. His on-set process only involved himself, while Leto's was all about screwing with other people. Sending used condoms to a female co-star isn't cute, it's obnoxious at best and harassment at worst.
Luckily, Robbie and co. didn't seem to mind. "By that point, I feel like I knew the Joker a bit, so it wasn't as alarming, but yeah, there were many instances where I didn't know what to expect from Jared," she said, according to Entertainment Weekly. So no harm, no foul. Leto might just want to take it down a notch for any potential sequels.