All-Male Harvard Club Says Keeping Women Out Prevents Them From Being Raped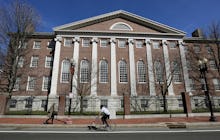 Evidently, some men think the only way to keep female students from being raped is for them not to be there.
One of Harvard University's oldest and most prestigious all-male secret societies (otherwise known as "final clubs") is bucking campus reforms on the grounds that being forced to admit women might increase sexual violence on campus. 
Charles M. Storey, the graduate board president of the boys-only Porcellain Club, recently emailed a statement to the school newspaper, the Harvard Crimson, criticizing campus administrators for forcing clubs to go co-ed. 
In his statement, Storey accused the university of using gender-exclusive final clubs like Porcellian as a "scapegoat" for the general issue of sexual assault on campus. He was particularly incensed by Harvard's insistence that final clubs like the Porcellian go co-ed, questioning whether same-sex fraternities and sororities would eventually be held to the same standard. 
"Forcing single-gender organizations to accept members of the opposite sex could potentially increase, not decrease the potential for sexual misconduct," Storey wrote, claiming PC's policy of excluding non-members from its clubhouse "greatly reduce[s] the potential for sexual assault." 
Storey told the Crimson that while he supports the push to combat sexual assault on campus, sexual misconduct is simply "not an issue at the Porcellian Club." Unfortunately, however, sexual assault at final club events appears to be a fairly common occurrence: According to a 2015 survey, 47% of female students who attended final club events, such as co-ed parties thrown by male clubs, reported having experienced "nonconsensual sexual contact" at some point. 
Ultimately, whether or not PC admits women in their little club is beside the point. What's horrifying here is the way the leadership defended its all-male policy with an irony-free dose of victim-blaming, by arguing that men will inevitably assault women if they happen to be around. This is the literal embodiment of rape culture — suggesting women need to stay home if they want to be safe, rather than teaching men not to rape.
h/t Harvard Crimson