Verizon CEO Lowell McAdam's Criticism of Bernie Sanders Will Only Help the Senator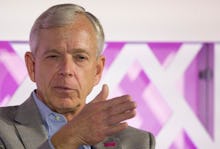 The CEO of Verizon is not feeling the Bern. Lowell McAdam, who serves as both CEO and chairman of the telecommunications giant, posted an article to LinkedIn titled "Feeling the Bern of Reality — The Facts About Verizon and the 'Moral Economy'" on Wednesday.
In the piece, McAdam takes contention with Vermont Senator and presidential candidate Bernie Sanders' claims the company does not pay its fair share of taxes and doesn't use its profits to benefit other Americans, as well as Sanders' meeting with some of the 36,000 Verizon workers who launched a major union strike this week.
"The senator's uninformed views are, in a word, contemptible. Here's why," McAdam wrote, noting Verizon paid $15.6 billion in taxes over the past two years.
"In the last two years, Verizon has invested some $35 billion in infrastructure — virtually all of it in the U.S. — and paid out more than $16 billion in dividends to the millions of average Americans who invest in our stock," he wrote. According to McAdam, Sanders' contention that the striking workers are being asked to agree to lower pay and benefits is inaccurate.
Sanders "oversimplifies the complex forces operating in today's technologically advanced and hyper-competitive economy," McAdam concluded. "When rhetoric becomes disconnected from reality, we've crossed a dangerous line. We deserve better from people aspiring to be President."
Of course, assaults from business leaders are only likely to play into Sanders' hands. Gallup polling has consistently shown widespread distrust of corporate influence in politics, with 63% saying they are dissatisfied with size and influence of major corporations in a January 2016 poll. Sanders' entire campaign is more or less based on rolling back the influence of those corporations in politics. As he meets with the strikers, others are pointing out opponent former Secretary of State Hillary Clinton has taken large donations from Verizon executives.
Verizon, a major player in one of the most hated sectors of the U.S. economy, is a particularly bad messenger to counter Sanders. For one, its business practices are widely and openly despised in the tech community, and for another, and the company recently made headlines for allegedly stiffing the city of New York on fiber optic line expansions and refusing to repair copper landlines for customers.