Louisiana Governor Signs Executive Order to Protect LGBT Rights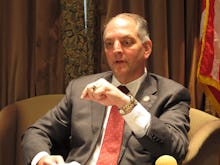 There will be no horrifying bathroom laws for the Pelican State. 
Louisiana Gov. John Bel Edwards moved Wednesday to protect the rights of LGBT individuals who work for the state. With his executive order, government agencies will be prohibited from discriminating "on the basis of race, color, religion, sex, sexual orientation, gender identity, national origin, political affiliation, disability or age" when it comes to employment and to state-provided services, according to a press release.
Read more: LGBTQ-Friendly Sign Ironically "Welcomes" North Carolina Visitors
"We are fortunate enough to live in a state that is rich with diversity, and we are built on a foundation of unity and fairness for all of our citizens," Edwards said. "We respect our fellow citizens for their beliefs, but we do not discriminate based on our disagreements."
Churches and religious organizations will be exempt from the order, but still, with the passage of anti-LGBT laws in Mississippi and North Carolina, it's nice to see a governor take a stand for his constituents — all of his constituents. 
Last year, Edwards' predecessor Bobby Jindal responded to the failure of the Louisiana Marriage and Conscience Act, or HB 707, with his own executive order. It aimed to "prevent the state from discriminating against persons or entities with deeply held religious beliefs" by discriminating against LGBT individuals. 
Bills like HB 707 are increasingly becoming law throughout the south, despite pushback from within and without. Since North Carolina passed HB 2, businesses have pulled out, artists have rerouted tours and the ACLU has filed a lawsuit. 
Louisiana will not suffer the same fate, says Edwards.
He said, in the release, "While this executive order respects the religious beliefs of our people, it also signals to the rest of the country that discrimination is not a Louisiana value, but rather, that Louisiana is a state that is respectful and inclusive of everyone around us."