Cleveland Is Slated to Spend $20 Million on Security and Riot Control for 2016 RNC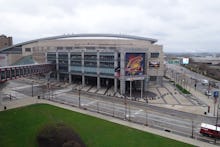 Throughout his presidential campaign, Republican frontrunner Donald Trump has established a troubling precedent for violence at his events. Reporters have been choke-slammed and battered, protesters have been punched and kicked and people of color have suffered a disproportionate amount of the violence.
Trump has condoned this violence on more than one occasion and has even predicted there will be more to come. If he doesn't clinch the GOP nomination for lack of delegates, he told CNN, "I think you'd have riots." 
Great.
Now, Cleveland, the host city of this year's Republican National Convention, forecasts it will spend millions protecting against just that. 
According to Vox, both Cleveland and Philadelphia, the site of the Democratic National Convention, received the same budget of $50 million from the federal government to cover security costs. Months ahead of the July convention to take place at Cleveland's Quicken Loans Arena, city officials predict they will spend $20 million on crowd control and nonballistic riot gear including helmets, visors, face guards, tactical gloves and autolock batons.
Read more: Here's What Happens When You Ask for a Hug at a Trump Rally Versus a Sanders Rally
DNC organizers in Philadelphia haven't said much about how they will allocate their funds, but said they are making it a point to be ready for the unexpected, the Philadelphia Inquirer reported.
At a briefing on the convention's preparations, committee chairman Ed Rendell said, "Everyone's predicting trouble in Cleveland, and there may be trouble because of the political situation, but you prepare for everything."
And without giving away any specifics, special adviser David L. Cohen said, they are putting equal efforts into securing the event. 
"A lot of the planning that you are seeing in Cleveland is also happening here," Cohen said. "I think that's as far as I want to go at this point."