Apparently, Homophobic States Really Love Gay Porn, According to This Porn Site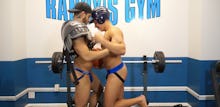 Mississippi — birthplace of pop icon Britney Spears — recently passed an anti-gay law that allows organizations and businesses to legally discriminate against LGBTQ people on the grounds of religious freedom.
Given Mississippi's reputation as a bastion of conservatism, the law was not exactly surprising. What is surprising, however, is that people in Mississippi are apparently *huge* fans of gay porn. 
A fresh batch of user data from NSFW adult website GameLink.com indicates that gay porn happens to be a favorite amongst smut-lovers in the Magnolia State.
"Our user data show Mississippi has been consuming gay and transsexual pornography [note: "Transsexual" is a term often used in the porn industry to describe trans porn] at a high rate in comparison to the rest of the country," GameLink rep Jeff Dillon said in an emailed press release. "It's unfortunate to see that their diverse viewing habits do not translate into an open-minded society." 
According to the press release, Mississippi comes in 6th overall "in regards to the number of gay porn scenes and movies streamed or purchased via GameLink.com" — behind only New York, California, Ohio, Texas (Texas!) and Florida. That means there are 44 other states that watch less gay porn than Mississippi, which we can now assume is nicknamed the Magnolia State because of its residents' love for the movie Steel Magnolias, which is its own form of gay porn.
Meanwhile, North Carolina recently passed some bathroom laws preventing trans people from using restrooms that align with their gender identity. And which porn titles did GameLink report were most popular in North Carolina? My TS [Transsexual] Teacher, Shemale Shenanigans and Joey Silvera's Trans-Visions 6. Seriously!
We've seen this strange phenomenon before. Back in 2014, the extremely homophobic country of Kenya was outed as the world leader in Google searches for both "gay sex pics" and "gay porn pics," despite sodomy being straight up illegal there. 
To a degree, this makes sense: Studies have repeatedly suggested that making something off-limits, be it alcohol or junk food or anal sex between two men, makes it all that much more enticing. Indeed, homophobia is often more pronounced in people who harbor same-sex desires themselves. 
Such speculation aside, the new findings in Mississippi and North Carolina beg the inevitable question: Why would voters pass laws against gay sex if they spend all their time J.O.'ing to it in the first place? And another, perhaps less obvious: How the fuck does a bill become a law anyway? 
h/t Broadly