Study Finds Fast Food to Be Source of Phthalates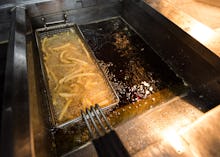 A new study has found that fast food could be a source of phthalates, a group of chemicals found in things like plastic, cosmetics and cleaning tools, for people who eat it, Time reported.
In the study, which looked at the food habits and urine samples of 8,800 people, those who had recently consumed higher levels of fast food also showed higher levels of DEHP and DiNP, chemicals present when breaking down phthalates. Those whose total caloric intake consisted of at least 35% fast food in the last 24 hours had 24% more DEHP and 40% more DiNP. 
Though medical research has yet to confirm a link between phthalates and any negative health effects, it is commonly suspected that phthalate consumption could have an adverse effect on reproductive health. Studies have found phthalates to affect the reproductive system in laboratory animals, according to the U.S. Centers for Disease Control and Prevention. The federal Food and Drug Administration also monitors phthalate presence in cosmetics and tracks research into associated health effects.
Read more: Is There Such a Thing as Healthy Fast Food? Here's the Truth About What You're Eating
Ami Zota, one of the study's authors, told Time that the discovered amounts parallel the "concentrations that have been measured in some of [the] epidemiological studies that find adverse health effects." 
Zota and her fellow researchers suspect that the phthalate contamination could come from poor packaging and preparation, spreading from things like gloves or conveyer belts, and that the warm environment of a fast food kitchen could make it easier for the chemicals to enter the food produced there.
With about one-third of the study's participants having eaten fast food in the past day, Zota told Time, she hopes the research will shed a light on intersection between public health and the fast food industry.