Justin Bieber Got Choked by Post Malone for Allegedly Burning Him With a Cigarette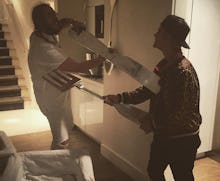 Post Malone, the rapper best known for "White Iverson," is currently opening for Justin Bieber during the first leg of his North American tour promoting his 2015 LP, Purpose. 
What Malone is not known for, however, is being an ashtray; The Sun reported that while the two artists and tour crew were celebrating at a Houston, Texas nightclub called Clé, Bieber allegedly grazed the tip of his lit cigarette on Malone's arm while he was performing his hit song. While Malone's performance didn't skip a beat, his temper certainly did — inciting Malone to choke Bieber out.
Or, at least that's how it appeared. Malone took to Twitter today to clarify that the "choke" depicted in the photograph was merely a gag. "[Bieber]'s my big brother," Malone tweeted. "We like to roughhouse."
After all, the two are allegedly best buds and have a documented history of antics.
Read more: Justin Bieber's Dreads Get Dragged for Cultural Appropriation on Twitter
h/t the Sun