Rihanna's Working On A Documentary With 'Battleship' Director Peter Berg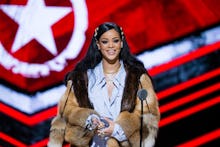 Looks like small cameos in summertime blockbusters like Battleship and This Is The End weren't enough for an international megastar like Rihanna. The Anti singer is teaming up once again with Peter Berg, the director of the sci-fi/action flick Battleship she appeared in three years ago, for a revealing documentary focusing on her life as one of the world's most successful entertainers. 
"Follow this true international superstar as she navigates life as an artist, businesswoman, and humanitarian, while contending with the inherent pressure of artistic freedom," Berg's production company Film 45 wrote in a summary of the forthcoming documentary, Pitchfork reported. "Peter Berg's Rihanna is an unfiltered look into Rihanna's life and how she's ascended to become a global icon, providing a glimpse into the evolution of one of the world's most well-known pop artists."
Deadline reported the documentary will be "a contemporary take on the 1967 Bob Dylan rock doc Don't Look Back."
Though little is known about the forthcoming film, including its release date, Film 45 is a company Berg helms with documentary producer Matthew Goldberg. Currently, their production team is developing an eight-episode documentary series for HBO focusing on the intersection of sports and society, titled State of Play.
Meanwhile, it's not the first time the "Kiss It Better" singer has allowed cameras to follow her every move — Rihanna released a documentary titled Half Of Me in 2013, giving fans an inside-look at her Diamonds World Tour, and another TV special after her short-lived 777 tour, though some reporters who followed the singer during that globe-trotting experience described the documentary as "watered-down propaganda."
Read more: With the "Kiss It Better" Video, Rihanna Is Now the Queen of Nipple-Baring Tops