Facebook Just Revealed the Future of Selfies, and It Looks Like a Bad Microsoft Paint Job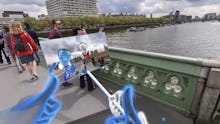 Soon you'll be able to explore the wonders of the world while sitting on the couch in your underwear — and even grab a souvenir selfie to prove you were there.
At Facebook's F8 developer conference this week, the Oculus VR team demoed what they called "social virtual reality" — social networking within a virtual reality environment. They also showed off a virtual reality selfie, and the result wasn't exactly something selfie queen Kim Kardashian would be proud of. 
Facebook CTO Mike Schroepfer demoed the virtual selfie stick, which lets you snap a photo of yourself in a 360-degree virtual world. You can post the photo to Facebook from within the app by slipping the photo into a special mail slot within the virtual world. Check it out.
Personally, I can't wait for my feed to become flooded with photos of digital heads wearing scribbly bowties — if, in fact, bowties are what they draw. 
Thanks, Facebook, for pushing to make the virtual reality void a social space.
These new selfies are cool in functionality, but leave much to be improved upon in terms of execution. First of all, the photos look nothing like their subjects. If Schroepfer went missing, for example, I doubt he would want this generic avatar with a tie scribbled on it to be used as his Missing Person photo — the resemblance is not uncanny. 
If I wanted to send my parents a photo convincing them I was in Hawaii — when in fact I'm splat down on my sofa — I'd use Photo Booth, not a virtual reality selfie. 
The new selfie isn't designed to show off your mug as much as it's designed to encourage you to share your innately isolating experience with your Facebook friends, breaking down the fourth wall of the face prison. 
At least Zuck approved.