How to Use Twitter to Grow an Online Following — Because You're a Nobody Without Followers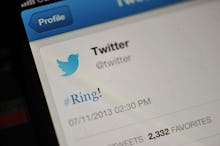 Basically everyone has a social media presence these days, but how do you actually gain real followers on a platform like Twitter? It's easy to sign up, tweet a few times, and then resign yourself to being an anonymous egg shouting into the void. But, by following a few simple tricks, you can turn your Twitter from drab to fab... or at least gain a respectable amount of followers.
Read: This Interactive Chart Will Show You When and How You're Most Likely to Die
According to career coach and author Michael Hyatt, the best way to gain followers isn't to buy them or try to game the system. "If something sounds too good to be true, it probably is," he wrote in a blog post on his website.
Instead, get actual people to want to follow you by making and maintaining a solid profile. Hyatt suggests filling out as much info as possible, with a photo of your face and a bio that gives people a sense of who you are and what you do. 
Once you've made a completed profile, keep the tweets coming at a steady rate! Don't flood your followers all at once, space your tweets out throughout the day. And share a mix of content: interesting articles you read online, responses to other people on Twitter and your own hilarious thoughts. And don't be afraid to retweet other people's tweets!
You're also going to want to follow a lot of people. Feel free to follow celebs you like, but also follow your friends, acquaintances, former classmates and coworkers — the more people you follow, the more followers you're likely to get. And more Twitter followers means more followers on all your other social media platforms, as long as you're cross-promoting. So tell your followers where to find you on Snapchat, Instagram, Facebook or wherever else you live virtually.
Make sure to share your Twitter handle far and wide as well. Hyatt recommends including your Twitter handle in emails, on your blog and on business cards. But the most important rule of gaining Twitter followers is that slow and steady wins the race. Just keep your Twitter profile active and healthy, and soon you'll be experiencing the unadulterated joy that comes with getting a notification that seven new people just followed you on Twitter.