Drake Has a Secret Snapchat We All Somehow Missed — What a Time to Be Alive, Indeed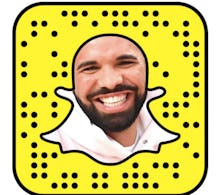 Drake has been hard at work in the studio, putting the final touches on the elusive Views From the 6, which he says will be a "life soundtrack." As fans have been combing the dark corners of the internet hoping to find a clue as to what might be on the forthcoming release, BuzzFeed reported there was something all of us somehow missed: Drake has a secret Snapchat. 
Hold up, hold my phone: Drake was spotted promoting Views From the 6 in a video that surfaced Tuesday morning on Twitter. Drake is mouthing a voicemail from one of his friends saying he's looking forward to Views From the 6, while laughing at a distorted reflection of himself. 
Of course, the revelation that Drake is on Snapchat sent fans on a never-ending quest to locate his username:
Even DJ Khaled, the king of Snapchat himself, confirmed it in a radio interview months ago, begging the question: How the hell did nobody catch this?
DJ Khaled KRRL in Los Angeles he followed Rick Ross, Drake and the Kardashians on Snapchat, well before Kim Kardashian West released her Snapchat name to the public.
For now, Drake's Snapchat remains as much a mystery as Views From the 6. However, we finally can rest assured the album at least has a release date of April 29. Maybe, just maybe, a new Drake Snapchat filter will drop that day, along with his secret username too.