Experts Worry a Resistance to Antibiotics Could Cause an "Apocalyptic Scenario" by 2050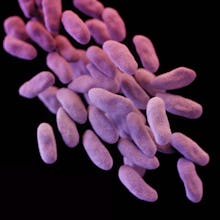 In 2016, cancer still remains one of the deadliest diseases, predicted by the National Cancer Institute to claim 595,690 lives this year alone. But as scientists continue to work on developing life-saving treatment for the disease, experts warn there may be a far greater threat to humankind down the road.
In an upcoming International Monetary Fund panel in Washington D.C., British Chancellor George Osborne is expected to share a frightening new statistic: An ever-increasing antimicrobial resistance to antibiotics could be the root cause of 10 million deaths per year globally by 2050, proving to be more fatal than cancer. 
According to the Guardian, England's chief medical officer, Dame Sally Davies, worries a shortage of antibiotics could cause an "apocalyptic scenario." And the director of health and HIV at the UN Development Programme, Mandeep Dhaliwal, predicts that if we don't act fast, humanity could return to a time when people are dying from "common infections and injuries." 
Read more: UTI Vaccine: Here's Why It Still Doesn't Exist
As it stands, 80% of all antibiotics used in the United States and 45% in the UK go to farm animals, who are often perfectly healthy when they receive them, according to the British shadow environment secretary Kerry McCarthy. 
The Guardian reported Osborne is slated to say at his IMF panel, "It is not just a health problem but an economic one, too. The cost of doing nothing, both in terms of lives lost and money wasted, is too great, and the world needs to come together to agree [on] a common approach."