Did Donald Trump Forget an Important Detail About Former Penn State Coach Joe Paterno?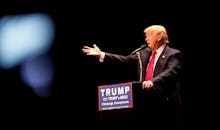 During his rally in Pittsburgh, Pennsylvania, Republican presidential candidate Donald Trump had a really awkward inquiry regarding former Penn State football coach Joe Paterno. 
"I know a lot about Pennsylvania, and it's great," Trump said to the Pittsburgh crowd, according to ABC News. "How's Joe Paterno. We're gonna bring that back? Right? How 'bout that whole deal?" 
Paterno was implicated in the scandal that involved former coach Jerry Sandusky, who was arrested and charged for molesting young boys. Sandusky was sentenced to prison for 30 to 60 years. 
Considering that the former coach died in 2012, it was unclear to some about whether Trump was talking about bringing Paterno back to coach the team again, or if the presidential candidate was asking to bring the coach's statue back that was removed four years ago. 
According to Donald Trump's spokesperson, however, the businessman meant restoring the Joe Paterno statue. 
Read more: This Trump Family Sitdown Gives a Sneak Peek at His Potential General Election Strategy