This Wisconsin Man Brought 3 Forms of Identification to the Polls and Still Couldn't Vote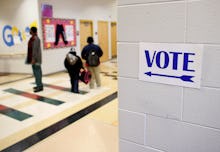 Wisconsin's strict voter ID laws prevented at least one man from casting a vote in the state's primaries — even though he brought three forms of identification to the polls. 
"I never miss voting," Eddie Lee Holloway Jr., 58, said of the April 5 primaries, the Nation reported. With an expired Illinois ID, birth certificate and Social Security card in hand, Holloway, who is African-American, was rejected at the DMV in Milwaukee because a clerical error had mismatching names on his identification. In attempts to ensure his voting, he had trekked back and forth between the Vital Records Division in Springfield, Illinois, his old high school in Decatur, Illinois, and back to Milwaukee. After making seven trips and spending $200, Holloway gave up and no ballot was cast in his name. 
Holloway is now suing the District Court of Wisconsin with the help of the American Civil Liberties Union. According to the Nation, an appeals court ruled that a judge should review the case. To reduce the impact of the law, the ACLU wants an affidavit option to be available for those voters like Holloway who don't have all of the required identification documents, according to MSNBC.
Read more: Millennial and Minority Voters in Wisconsin Face Huge Obstacles at the Polls
The ACLU has been battling the law since its introduction in 2011. After the primaries, the ACLU brought Holloway's case to the federal court, estimating that Holloway is just one of thousands of fellow Wisconsin residents who lost the ability to vote with the new law. 
"Wisconsin's strict voter ID law remains a threat to our democracy, and will continue to be a threat even if we obtain the remedy that we seek," Sean Young, who is leading the challenge, said, according to MSNBC. 
The law particularly affected the voting abilities of minorities, with black voters 1.7 times and Latino voters 2.6 times more likely than white counterparts to not have a photo ID, according to the Nation in 2012.
"The right to vote is personal and is not defeated by the fact that 99% of other people can secure the necessary credentials easily," Judge Frank Easterbrook wrote, according to the Nation. 
h/t the Nation
Read more: Republican Lawmaker Gives Away the Real Reason States Are Instituting Voter ID Laws