AMC Could Allow Moviegoers to Use Cellphones Inside Theaters to Appeal to Millennials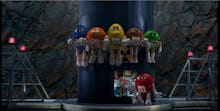 (Editor's note: After this story was published, AMC Theaters issued a statement on Twitter saying that due to the negative response, it will not proceed with the plan to allow cellphones inside its theaters: "With your advice in hand, there will be NO TEXTING ALLOWED in any of the auditoriums at AMC Theaters. Not today, not tomorrow and not in the foreseeable future." Mic's original story appears in full below.)
There are certain things synonymous with the movie theater experience — massive tubs of popcorn, overpriced candy and soda, twenty minutes of previews. It's also a place where using your cellphone is not just rude, but straight sacrilege — any time that bright screen is pulled out should elicit a negative response from other moviegoers.
But AMC is considering changing that rule as a means to appeal to millennials. In an interview with Variety, AMC Entertainment CEO Adam Aron said making this adjustment would be an important reshaping of the movie theater experience, tooled to a younger generation. 
"When you tell a 22-year-old to turn off the phone, don't ruin the movie, they hear 'please cut off your left arm above the elbow,'" Aron told Variety. "You can't tell a 22-year-old to turn off their cellphone. That's not how they live their life ... We need to reshape our product in some concrete ways so that millennials go to movie theaters with the same degree of intensity as baby boomers went to movie theaters throughout their lives." 
Conversely, Aron said it would need to be implemented in a way that doesn't disturb those who prefer a traditional theater experience — and one way would be taking "specific auditoriums and make them more texting friendly." 
However, while Aron expressed optimism for a text-friendly implementation, there isn't a specific timeframe in place, according to Ryan Noonan, director of corporate communications at AMC Theaters. 
"Given that so many of today's moviegoers are passionate about preserving the purity of watching movies undisturbed in our theatres, there is no specific timeframe as to when we might introduce such a test, if ever," Noonan said in an email. "While we recognize that there is a growing population that is continuously connected to their phones, above all we also remain extremely sensitive that the overwhelming majority of our current audience does not want texting to disrupt their experience. We would only introduce a concept like this when we are totally confident that we can fully satisfy the desires of our current guests." 
With the news of this potential change, though, the Twitterverse was irate, with some suggesting — likely via their cellphones — they'd boycott AMC theaters if need be. 
Plus, if cellphone interruptions are frequent, we'll never get the M&M'S feature film we've always wanted. 
Read more: People Who Search for Donald Trump on Google Are Interested in These Five TV Shows
h/t Variety 
April 14, 2016, 11:50 a.m. Eastern: This story has been updated.