Harrison Ford Auctioned Off His Han Solo Jacket to Raise Money for Epilepsy Research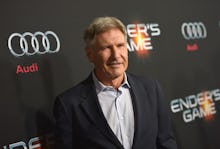 Han Solo's leather jacket no longer belongs to Harrison Ford — for the best possible reason.
In March, auction site If Only posted Han's iconic jacket for public bid, with a starting bid of $15,000. Funds raised from the sale went directly to the nonprofit Finding a Cure for Epilepsy and Seizures, or FACES. FACES, which functions as a part of New York University's Langone Medical Center, will receive $191,000 from the sale.
Read more: Carrie Fisher Just Gloriously Closed Out 2015, the Year of Clapping Back at Body-Shamers
Ford has a personal connection to the auction's cause: His daughter Georgia lives with epilepsy. FACES has been a huge help to her, Ford said at a recent fundraiser.
"I admire a lot of things about her. I admire her perseverance, her talent, her strength. She's my hero. I love her," Ford told the New York Daily News in March. "When you have a loved one who suffers from this disease, it can be devastating. ... You want to find a way that they can live a comfortable and effective life."
The jacket received over 50 bids, according to Time. The jacket is part of film history, but its auction affects something much greater. As befitting its cinematic owner, because of that jacket, FACES can and will save lives. Ford knows that all too well; thanks to FACES, he said at that fundraiser, his daughter "has not had a seizure in eight years."
Meanwhile, the Han Solo prequel in the works will find a new jacket — and thus, the legacy of Ford's character will begin anew.