Clinton and Sanders' New York Debate Will Highlight the Democratic Race's Big Irony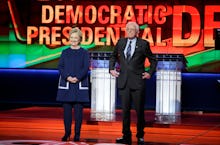 Hillary Clinton never wanted to be here.
Twelve months since launching her bid for the presidency, the frontrunner finds herself in a particularly vexing position, as she and Bernie Sanders prepare to spar in their ninth debate, hosted by CNN at the Brooklyn Navy Yard in New York City.
The woman who began her campaign with the support of two-thirds of national Democrats, per an ABC News/Washington Post poll, is now struggling mightily to dispatch a septuagenarian democratic socialist. The Vermont senator has defeated Clinton in seven of the past eight nominating contests, and his summons to a "political revolution" is resonating with a broad swath of the party faithful.
Read more: Joe Biden: "I Would Like to See a Woman Elected"
Exactly one year ago — April 14, 2015 — Clinton demolished Sanders 60% to 4% in the RealClearPolitics national polling average. Now, he's essentially dead even, with 46% support to Clinton's 47%.
While polls suggest it's a long-shot, Sanders holds out hope of defeating Clinton in the state she represented for eight years in the United States Senate. According to RealClearPolitics, Clinton holds a 53% to 39% lead over Sanders ahead of the April 19 New York primary, a substantial advantage but one that's much diminished from previous polls.
"I wouldn't be surprised if it were close," Kenneth Sherrill, a political scientist at the City University of New York Hunter College, said in a recent interview. "The energy is on [Sanders'] side," he added — a point underscored on Wednesday night, when the senator drew 27,000 people to a rally in Manhattan's Washington Square Park.
Despite it all — Sanders' recent string of victories, his remarkable new boldness in questioning Clinton's qualifications, his eclipse of Clinton's fundraising haul, his growing support among Democrats nationally, the fact that there's even discussion of his defeating Clinton on her home turf — the Democrats' debate in Brooklyn marks a last stand for Sanders, not Clinton.
Therein lies the irony. Even as Sanders' persistent strength proves irksome for Clinton, who hoped to be uniting the party behind her candidacy and entering full-time general election mode by this point, the challenge confronting him remains monumental.
Clinton far outpaces Sanders in both the popular vote and the delegate count — she's won roughly 2.4 million more votes than he has, and leads him 1,758 delegates to 1,069, according to RealClearPolitics — meaning that to win the 2,383 delegates needed to clinch the party nod, Sanders needs landslide victories, not just narrow wins, in the remaining contests.
The former secretary of state may be far from the consensus Democratic candidate she once appeared to be, and yet the sheen of inevitability remains.
The candidates' dilemmas: That sheen could lose some of its luster if Sanders defeats Clinton in New York on Tuesday. A narrow Sanders victory would still leave Clinton substantially ahead in the delegate count, but could prompt superdelegates to begin reassessing her candidacy — particularly if Sanders emerges victorious in delegate-rich Pennsylvania one week later.
The question facing the senator on Thursday night, then, is how to strike a balance between doing everything he must to pull off a historic upset and avoiding scorched-earth attacks that could badly damage Clinton in a general election should she prevail.
It's worth watching how vociferously Sanders attacks Clinton on her Wall Street ties, her limited support for natural gas fracking and her past support for free trade agreements and the Iraq War, points Sanders has hammered in recent days.
Meanwhile, as Clinton looks to sew up the nod, she must simultaneously stave off Sanders' unexpectedly fierce challenge and avoid alienating his loyal core of supporters, particularly young voters, who will be crucial to a Democratic victory in November.
After Sanders badly bungled an interview with the New York Daily News editorial board, Clinton charged on MSNBC's Morning Joe that her opponent "hadn't done his homework" on his own policy proposals. She also said earlier this month that she feels "sorry" for young people backing the senator, lamenting that "they don't do their own research."
Can Clinton discredit Sanders, without appearing condescending to the senator and his millions of supporters? Thursday night's debate will go a long way toward answering that question.