Ariel Winter Gets Tattoos to Honor Her Nieces and Nephew, Is a Cool Aunt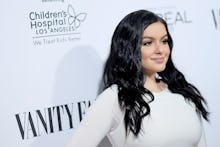 Ariel Winter, Modern Family actress and professional wise teen, debuted some new ink on Wednesday that suggests she can add another role to her resume: cool aunt. 
In a post on Instagram, Winter's exposed ribcage can be seen adorned with a series of initials. In the caption, she explained that they are "the initials of five of the most important beings in my life: my nieces and nephew."
"Their initials are on my ribcage, on the side where my heart is," she wrote. "They are my inspiration, and my reason for living. Love these babies more than anything and proud to have their initials forever on my body."
Winter's tribute to her nieces and nephew is particularly touching in light of her own very public family issues. In 2015, the actress was successfully emancipated from her allegedly abusive mother following a years-long battle in court. Winter has frequently credited her sister Shanelle Gray, who became her legal guardian in 2012, with supporting her throughout the ordeal.
What's that? Your cool aunt merely snuck you some junk food and taught you a few swear words and called it a day? She failed to profess her undying love and devotion to you by permanently marking her ribcage with your (full) initials via the hip 'n' edgy medium of tattoo art?
Oh, well. They can't all be as cool as Aunt Ariel.
h/t People
Correction: April 14, 2016