Rachel Maddow Attributes On-Air Mix Up to "White Men" Pretty Much All Looking the Same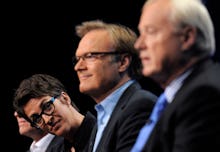 We've all been there: MSNBC anchor Rachel Maddow did that thing Wednesday night where you confuse one old white dude for another old white dude.
This is Angus King, the independent senator from Maine who Maddow was referring to in her segment:
And this is Rep. Pete King (R-New York), the guy whose photo MSNBC broadcasted during the segment:
It was an honest mistake, and Maddow apologized for it a few minutes later — sort of:
"I think this is maybe our best visual screw-up ever," she said with a laugh. "White men! That's the only way I can get there visually. That's it."
Of course, King and King look nothing alike, but there's humor to be found in their facing the kind of mixup that more often happens with celebrities of color — like when the New York Post confused Keri Hilson with Mary J. Blige:
Or when ABC's George Stephanopoulos thought NBA legend Bill Russell was Morgan Freeman: 
Or when Buffalo, New York, television station WGRZ thought singer Seal was deceased actor Michael Clarke Duncan:
Or when Samuel L. Jackson destroyed that one guy on KTLA for thinking he was Laurence Fishburne:
And so on. 
Who knew keeping track of America's 120 million or so white male faces could be so difficult? Watch the full video here.
h/t Jezebel