Boko Haram's Chibok Girls Shown Alive in First Footage Since Kidnapping in 2014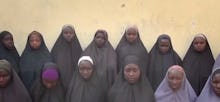 Nigerian Islamist militant group Boko Haram released a two-minute video showing 15 of the girls who were kidnapped in Chibok exactly two years ago, according to the BBC. In the video, the girls are donning black robes and are asked to identify themselves, CNN reported. The video, filmed in December, closes with one of the girls asking to be returned home. 
"I am speaking on 25 December 2015, on behalf of the all the Chibok girls and we are all well," Naomi Zakaria says in the video.
The video was sent to the Nigerian government, and continues Boko Haram's negotiations for a prisoner exchange. It's also the first appearance of the girls since May 2014, in which about 100 girls were shown in a video.
Read more: #PrayForNigeria Highlights Massive Double Standard in Media Response to Nigeria Attacks
About 219 girls are estimated to still be in Boko Haram's captivity, and the video suggests the girls might be split up into small groups across the militant camps in Nigeria. The girls have converted to Islam, claimed Abubakar Shekau, Boko Haram's leader. He also threatened to marry them to members of the group or sell them as slaves. 
After a screening of the video by local officials, some parents identified some of the girls. On Thursday, parents took to the streets in Abuja, Nigeria, to protest the government's lack of effort in helping to bring the girls home, the BBC reported.
On April 14, 2014, 276 schoolgirls were kidnapped by Boko Haram from a government boarding school in Borno state. Soon after, Boko Haram sent a video to the government requesting an initial exchange of the girls for their commanders. About 57 of the girls have escaped to freedom since then. 
Last month, Boko Haram, using several women and their own fighters, attacked villages across the country. Over 160 died in the series of attacks.