Nigeria Vetoed Gender Equality Bill as It Would Lead Women to "Prostitution, Lesbianism"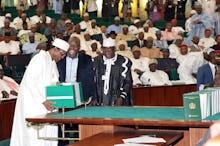 Gender equality will turn women into lesbians, prostitutes and other bad things, in case you haven't heard the news. Nigeria apparently got the memo just in time and its senate was able to nix the Gender Equal Opportunities Bill on March 15, before it was too late. A Nigerian senator spoke out Wednesday about why it failed. 
Read more: Boko Haram's Chibok Girls Shown Alive in First Footage Since Kidnapping in 2014
Eyinnaya Abaribe, senator of the Abia-South district, approximately 360 miles south of the capital of Abujal, discussed the bill at a Civil Resource Development and Documentation Center forum on women's rights. Abaribe said many of his fellow lawmakers were concerned the bill's passage would lead to social pandemonium, and function as a gateway for women to become sinful and unruly. 
"The bill was defeated at the second reading when its details were highlighted to the senators," Abaribe said, according to the Premium Times, a Nigerian newspaper. "Some lawmakers started expressing deep worries about some parts of the bill that they think could give women too much freedom and lead them to prostitution, lesbianism and other social vices."
Nigeria, the most populous country in Africa, is religiously divided, with a predominantly Muslim north and predominantly Christian south. An insurgency by self-proclaimed Islamic group Boko Haram, a terrorist group with allegiances to ISIS, in the northeast of the country has produced political volatility in recent years. 
Abaribe addressed the political and social divide in his remarks:
"For example, the bill is not a north versus south bill. The bill is not a Christian versus Muslim bill. The bill is not a male versus female bill. The bill simply seeks to extend to every Nigerian all the rights that are they should enjoy. And if women by virtue of our culture, by virtue of our historic antecedents are being behind, then we need to also drag them into the economy by giving them every right that they can use to be productive members of the society and that is all that we're trying to do."
He also suggested amending the language could resurrect another iteration of the bill. 
Thursday was coincidentally another important day for women's rights in the country, as it marked the two-year anniversary of Boko Haram's kidnapping of 276 schoolgirls in Chibok. Nigerians marched through the streets of Abuja on Thursday, demanding their return. A global, celebrity-fueled campaign #BringBackOurGirls emerged in response to the kidnapping in 2014, but all to no avail. 
Video footage of 15 of the girls from December also surfaced Thursday, making the anniversary all the more emotionally charged across the country. 
Given Nigeria's political climate, passing the Gender Equal Opportunities Bill — or some variant thereof — may well send a desperately needed message to woman there, who are being consistently marginalized. 
Read more: Boko Haram's Chibok Girls Shown Alive in First Footage Since Kidnapping in 2014