Beyoncé's Ivy Park Breaks Internet, BeyHive and Topshoppers Lose Collective Mind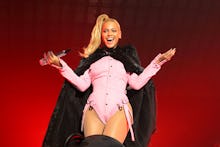 The day has finally arrived: Beyoncé's new athleisure line Ivy Park has reached Topshop stores across the nation, and as one would predict with any Beyoncé release, it's doing its expected internet-breaking thing. 
The fashion company was forced to tweet several apologies to customers Thursday morning, letting online shoppers know their site was experiencing technical difficulties after launching the line at midnight. 
In other words, Beyoncé stopped the world once again. 
"For me, it won't be real until I see women at the gym, in the park, on the street wearing the collection, sweating in it and loving it," Beyoncé told Elle about launching Ivy Park. 
But that might be sort of hard to accomplish when this is the message shoppers were getting throughout the morning:
Womp, womp. 
Thursday's gaffe caused Queen Bey's most loyal followers to explode on Twitter, demanding answers and apologies from Topshop for disgracing the international megastar's empire:
Luckily, some were blessed:
Topshop also launched the line in stores on Thursday, and fans were waiting patiently in line hours before stores opened.
"That's why she's the queen," the first customer in line at a Topshop in New York City told Stashed. "She's got that Jordan-like character, like not Serena Williams."
Shady, but true — the Beyoncé regime has now officially taken over the fashion world.
Bow down, bitches.