A Running List of Every Artist Who's Taken a Stand Against North Carolina's Anti-LGBT Bill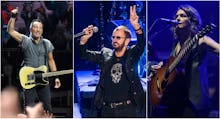 First, it was the Boss. 
Friday, Bruce Springsteen announced to the country he would be canceling his upcoming show in Greensboro, North Carolina, to protest the state's recent HB2, also known as the "bathroom bill." That infamous piece of legislation insists individuals must use bathrooms that correspond with the "biological sex" stated on their birth certificates. 
It's drawn heavy criticism from celebrities, corporations and activist organizations, and since Springsteen's announcement Friday, scores of musicians have been coming forward with their own acts of protest.
Read More: Bruce Springsteen Is Canceling His Show in North Carolina to Protest Anti-LGBT Legislation
Nearly every artist that's protested the bill has a different strategy on how to disrupt the state's norms. Some have cancelled tour dates; others have scheduled special concerts to increase visibility for the very groups the bill puts at risk. One should not underestimate the power of a musician's boycott: Such boycotts during the South African anti-apartheid movement and the Jim Crowe South highlighted the injustices taking places in both places and helped shift public opinion.
Here's an ongoing list of every artist who's taken a stand and what they're planning to do.
Bruce Springsteen
Action: Springsteen cancelled a tour date in Greensboro, NC, and issued a statement on his website on April 8.
Statement: "Some things are more important than a rock show, and this fight against prejudice and bigotry, which is happening as I write, is one of them. It is the strongest means I have for raising my voice in opposition to those who continue to push us backwards instead of forwards."
Stephen Schwartz
Action: Schwartz enacted an embargo on North Carolina theaters from performing the 18 Broadway musicals he's penned, including Wicked, Godspell, Pippin and Children of Eden. He announced it in a statement shared via BroadwayWorld.com on March 31.
Statement: "In the 1970s, I, along with many other writers and artists, participated in a similar action against apartheid in South Africa, and, as you know, this eventually proved to be very effective. If you are in agreement, you may want to join me in refusing to license our properties to, or permit productions of our work by, theaters and organizations in North Carolina until this heinous legislation is repealed."
Jimmy Buffett
Action: Buffett has two upcoming shows in North Carolina, which he "booked and sold out long before the governor signed that stupid law," as he wrote on his Margaritaville blog on April 9. Any future shows will depend on future of the law.
Statement: "We will be playing in Raleigh and Charlotte next week. That said, as for the future of shows in North Carolina, it would definitely depend on whether that stupid law is repealed. That is up to the good people of North Carolina and there are many, and I am confident that they will see that the right thing will be done. As Forrest said, "Stupid is as stupid does."
Ringo Starr
Action: Starr cancelled his tour date in Cary, North Carolina, announcing it on his Facebook April 13.
Statement: "I'm sorry to disappoint my fans in the area, but we need to take a stand against this hatred. Spread peace and love." 
Mumford and Sons
Action: Mumford and Sons decided to go forward with their show in Charlotte on Thursday, April 14. However, they announced on Facebook on April 13 they will be directing all the revenue from the show toward "creating a charitable fund to support those who have made it their mission to pursue love and justice."
Statement: "Over the years we've looked for ways to contribute to the vitality of local communities, and, in that spirit, we're now creating a charitable fund to support those who have made it their mission to pursue love and justice. We will be donating all of our profits from this show to this new fund. And we will start by making a donation from it to a local LGBTQ organization."
Cyndi Lauper
Action: Lauper will be turning her upcoming June 4 show into a "day to build public support to repeal HB2," as she wrote on her website and Facebook April 13. All proceeds will go to support Equality North Carolina, which is "dedicated to securing equal rights and justice for lesbian, gay, bisexual, and transgender North Carolinians," as its website states.
Statement: "The pressure to repeal HB2 is building, and it is beautiful. In the dark haze of such oppression, people and companies are stepping up to fight back against this unjust law and ensure that all North Carolinians are treated with dignity and respect, especially the transgender community." 
Laura Jane Grace
Action: Turning Against Me!'s May 15 concert in Durham, North Carolina, into a full event dedicated to LGBT solidarity "as a form of protest," as she told BuzzFeed.
Statement: "I think the real danger with HB2 is that it creates a target on transgender people specifically," Grace told BuzzFeed. "When you feel targeted as a trans person, the natural inclination is to go into hiding. But visibility is more important than ever; to go there and have the platform of a stage to stand on and speak your mind and represent yourself."
She added, "Bryan Adams [who is canceling a show in Mississippi over the state's own anti-LGBT bill] and Bruce Springsteen aren't transgender. For them to say, 'I think this bill is messed up and I'm not going to go here and be part of the state,' that seems like the effort of an ally, which is really commendable."
However, she can't do the same. If Against Me! cancelled their show, "no one would care."
Brandi Carlile 
Action: Carlile will be donating all of the proceeds from her upcoming North Carolina shows to "the ACLU Foundation of North Carolina, as well as inviting several grass roots organizations to be a part of the evening," Carlile wrote in an Instagram caption posted April 13.
Statement: "Freedom to practice one's religion shouldn't grant them the right to exclude and humiliate a person morally or legally. From what I understand of the faith I know — service is never in conflict with the gospel."
Ani DiFranco
Action: Ani DiFranco had been planning to participate in the July 4th Festival for the Eno in Durham. However, as she announced on her Facebook on Thursday, April 14, she will be canceling her appearance to protest the bill.
Statement: "When one of us is oppressed, all of us are oppressed, and only through the strength of our collective action will change occur. I wish to add my voice through this small action to the chorus of all of those working to make our world a more loving and accepting place."
Duran Duran
Action: Duran Duran decided to go forward with their Saturday, April 17, show in Charlotte. A statement shared on their website urged fans to sign a petition to repeal the legislation.
Statement: "Duran Duran is opposed to bigotry and discrimination in all of its ugly forms, and so it follows that we are opposed to the basic premise of HB2. We support the rights of the lesbian, gay, bisexual and transgender community to have equal opportunities. We support their rights to live free, happy, fulfilled lives. If you live in this state and feel the same way, we urge you to register, so that you can vote; so that your voice can be heard."
Boston
Action: The "More Than a Feeling" rockers cancelled three May shows in Charlotte, Greensboro and Raleigh, North Carolina, "to raise awareness, and protest in the strongest terms, the recent passage of HB2, the so called 'North Carolina bathroom law,'" as the band wrote in a statement posted to Facebook Monday, April 18.
Statement: "Hopefully the sacrifices we are all making here will inspire people to do the right thing in the future. We look forward to the day that the state government of North Carolina will come to its senses and treat all individuals with equal freedom in their pursuit of happiness here in the United States."
Pearl Jam
Action: On Monday, April 18, Pearl Jam released a handwritten statement canceling their show in Raleigh, North Carolina. That night, the band's lead singer Eddie Vedder explained their decision at a show in Hampton, Virginia. "We thought we could take the money and give it to them and still play the show, but the reality is there is nothing like the immense power of boycotting," he said, according to Rolling Stone.
Statement: "The HB2 law that was recently passed is a despicable piece of legislation that encourages discrimination against an entire group of American citizens. The practical implications are expansive and its negative impact upon basic human rights is profound. We want America to be a place where no one can be turned away from a business because of who they love or fired from their job for who they are."
April 19, 2016, 12:08 p.m. Eastern: This article has been updated.