Taylor Swift Looks Nothing Like Taylor Swift On the Cover of 'Vogue'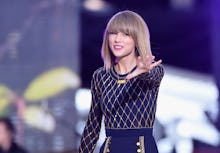 On Thursday, Vogue revealed that its latest cover star is none other than Taylor Swift, with an accompanying profile "Taylor Swift As You've Never Seen Her Before." 
As it turns out, that's a pretty fitting headline, because the platinum-haired woman on the cover of the May issue of Vogue actually looks ... nothing like Taylor Swift. 
Maybe it's the hair. Maybe it's the face she's making, which is nothing like the typical "Did I really win seventeen more Grammys?" face we've all become accustomed to. 
Maybe it's the pose. Maybe it's the sharpness of her face. Maybe it's how her eyes appear to be freakishly blue. 
Read more: This Korean Taylor Swift Look-Alike's Secret? The Perfect Makeup Transformation
Whatever it is, this woman wearing a short, sparkly dress with her legs crossed looks nothing like Swift. To prove our point, we present you with a side-by-side: 
Twitter, as expected, tended to agree: 
Even in the rest of the Vogue spread, she resembles someone more akin to an indie actress than a woman who physically cannot stop producing #1 singles. 
This isn't the first time Swift has been deemed "unrecognizable" on the cover of a magazine. In actuality, it's become something of a trend of hers. 
There was that Wonderland cover and spread in late 2014, which Billboard said made Swift look, yet again, "nearly unrecognizable." 
And it's true. Those brows? That hair? She looked like, we don't know, Taylor Swift's cousin twice removed. Sans red lipstick, she can transform into someone entirely unfamiliar. 
When Swift graced the cover of Maxim in the summer of 2015, there was similar confusion. 
With wet hair, a bare pout and bushy brows, Swift was the antithesis of the glamour-puss we know all too well. The picture itself, actually, came from the same Wonderland photographer's set, so it seemed like magazine editors were super keen on disguising the overexposed pop starlet.
The last example of this was just six months ago for Swift's November 2015 cover of Vogue Australia. 
Yet again, she ditched those red lips and retro curls for something different, this time favoring a look that'd be appropriate for, say, a stroll through the Australian outback. But in any case, she was said to be "unrecognizable." 
Why does this keep on happening? In a world when celebrities are quick to call out covers that really don't look like themselves, Swift is only embracing her chameleon ways. 
For a singer who's constantly bombarded by paparazzi (it even happens during the Vogue interview), that may be an incredibly valuable asset. To us, it's just a little bit ... strange.