Canadian Prime Minister Justin Trudeau Moves to Legalize Doctor-Assisted Suicide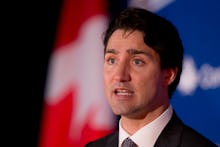 On Thursday, Canadian Prime Minister Justin Trudeau introduced a legislation that would make it legal for Canadians with serious medical conditions to undergo doctor-assisted suicide. 
According to the New York Times, the legislation echoes a February 2015 decision by the Supreme Court of Canada, which ruled that denying the option of assisted suicide to a consenting adult suffering from an incurable or exceedingly painful condition was unconstitutional. Following the ruling, legislators had one year to write and introduce a bill on the issue, but the court extended the deadline to June 6 when Trudeau took office in November.
Read more: Stephen Hawking: "I Want to Die on My Own Terms"
Trudeau's new legislation is careful to specify that, if passed, it would only apply for residents of Canada and exclude tourists who might visit with the hope of obtaining an assisted suicide. The law also excludes those with mental illness and stipulates that Canadians are forbidden from making preemptive plans for assisted death. 
In October, California became the fifth state in the U.S. to legalize the practice for the terminally ill, joining Oregon, Washington, Montana and Vermont. Democratic California state assemblyman Mark Leno then told the Times it was about "individual liberty and ... freedom of choice," but the issue remains a contentious one for the country. Republican California State Sen. Ted Gaines had said of the state's bill, according to the Times, "I'm not going to push the old or the weak out of this world. I think that could be the unintended consequence of this legislation."
Though the Times points out that Trudeau's legislation will likely pass due to the liberal majority in the House of Commons, conservative pushback might mean it won't meet its June deadline.
"An awful lot of Canadians have experienced and accompanied their loved ones through difficult moments at the end of their lives," Trudeau said in February 2015, according to the CBC. "Many more have had difficult conversations with their aging parents, for example, to understand their wishes. And I think the Supreme Court clearly said that it's a violation of Canadians' fundamental rights to have the current legislation in place. So it's given us 12 months to go back to the drawing board and figure out a way to both uphold Canadians' rights and protect the most vulnerable."