Grimes Says Male Producers Threatened to Not Finish Her Songs if She Didn't Have Sex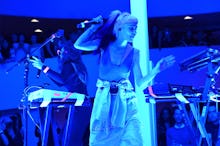 In an interview with Rolling Stone published on Tuesday, music artist Grimes (born Claire Boucher) revealed that male producers have previously threatened her with ultimatums to have sexual relations.
"I will say that I've been in numerous situations where male producers would literally be like, 'We won't finish the song unless you come back to my hotel room,'" she said, according to Rolling Stone. "If I was younger or in a more financially desperate situation, maybe I would have done that."
In the interview, Grimes also called the music industry a "hostile environment" for women, which makes it difficult for them to become producers. "I don't think there are few female producers because women aren't interested," she said. 
Grimes is no stranger to being open about the misogyny and sexism she and other females face in the industry. In a similar vein with the Rolling Stone interview, Grimes had previously recounted to Dazed that there have been instances where male producers were "sexually creepy" to her by hitting on her while in the studio.
Grimes produced her latest album Art Angels by herself and with fellow female producers. 
Read more: Grimes Says Men Still Get All the Credit for Women's Creative Work in a New Interview
April 14, 2016, 2:51 p.m.: Thursday afternoon, Grimes took to Twitter to share her feelings about being asked about sexism in the music industry, calling it the "most annoying thing about my job."
Grimes fielded one fan's question, who asked why the topic seems like such a "regular thing" for her to tweet and speak about if she finds it so annoying. Grimes explained it only seems that because of the way the press fixates on it.