Louisiana Just Showed America How Not to Treat a Wrongfully Incarcerated Man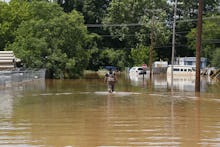 Glenn Ford is dead. He died of lung cancer in June 2015 after spending 30 years on death row for a murder he didn't commit.
According to Shreveport-based news station KTBS, the 65-year-old's dying wish was to provide for his grandchildren financially. He sought $330,000 in compensation from the state before he died — well above the $250,000 Louisiana usually offers wrongfully convicted people, according to the Times-Picayune. 
The money would have gone into a trust fund for his grandkids' education, according to Ford's lawyers. But now, they will most likely get nothing thanks to a ruling by a Louisiana appeals court.
In a crushing decision Wednesday, Judge Katherine Dorroh of the Caddo District Court ruled that Ford was not entitled to financial compensation for the decades he spent behind bars. 
Ford was sentenced to death for the 1983 murder of jeweler Isadore Rozeman in Shreveport. The then-33-year-old spent 29 of the next 30 years behind bars in solitary confinement at the Louisiana State Penitentiary, the largest maximum security prison in the U.S.
He was exonerated in 2014 after newly available evidence implicated another man.
Being innocent of murder wasn't enough.
The judge found that while Ford may not have committed the murder, he was "peripherally" involved in the crime. According to prosecutors, Ford helped the killer get the gun used to kill Rozeman, then pawned some of the jeweler's stolen property after the murder. 
"We find no manifest error in the trial judge's conclusion that Ford failed to prove by clear and convincing evidence that he did not commit any crime based upon the facts used in his conviction," Judge Dorroh said in her ruling, upholding a judgment from a lower court. 
Louisiana's compensation statute requires that people like Ford not just prove they are innocent of the crimes for which they were imprisoned, but of any crime based on the same set of facts. This doesn't make Ford's wrongful incarceration any less unjust, of course — or negate that he was robbed of 30 years of his life.
Even the prosecutors who put Ford behind bars think the state should compensate him. In a 2014 letter to the Shreveport Times, A.M. "Marty" Stroud III — the lead attorney for the prosecution in Ford's case — argued that Ford "should be completely compensated to every extent possible because of the flaws of a system that effectively destroyed his life."
Stroud also expressed regret for his role in the conviction.
"I was not as interested in justice as I was in winning," he wrote.
Meanwhile, Ford's life was destroyed. 
He spent half his life in prison, then died of cancer just over a year after his release. The only remuneration he received for his suffering was the $20 debit card he was given when he left jail. 
h/t KTBS