Rihanna Is Launching Diverse Makeup Line With LVMH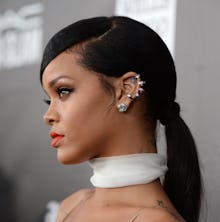 Rihanna hasn't just wet her feet in the beauty and fashion world, she's dived right in, from her makeup lines with MAC Cosmetics, to her role as Puma Women's Creative Director, to her multiple collaborative projects, including creeper sneakers and runway looks. 
Now, the Barbados-born megastar has signed a lucrative, $10 million deal with the business conglomerate LVMH to create Fenty Beauty by Rihanna.
The line, which launches globally in 2017, has an eye toward diversity.
"Fenty Beauty by Rihanna is a beauty rocket ship that will appeal to a huge and diverse global audience," chief executive officer of LVMH's Kendo division David Suliteanu said, confirming his company's collaboration with Rihanna is in the works. "We are aiming for the stars."
LVMH is an enormous luxury conglomerate that includes high fashion brands like Louis Vuitton, Céline, Marc Jacobs, Kenzo and Givenchy.
In other words, this is a big deal. Yuge, even.
Fans spent the day rejoicing on social media, and scheming how to get money in advance of its release:
Because let's be serious — plenty will be happy to shell out for curated beauty from this woman: