Pennsylvania Poised to Legalize Medical Marijuana, Will Become 24th State to Do So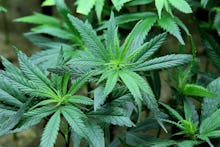 Pennsylvania will become the 24th state in the U.S. to legalize a medical marijuana program if Governor Tom Wolf signs the proposed medical marijuana bill into law this Sunday, as planned. The bill passed the state House 149-46 on Wednesday, reported the Associated Press, and Wolf said in a statement that he is "excited" to sign it into law.
"I applaud members of both parties in the House and Senate who have come together to help patients who have run out of medical options and want to thank the thousands of advocates who have fought tirelessly for this cause," Wolf said in a statement released by his office on Wednesday. "I have met with patients and families, held roundtables, and urged action on this legislation since taking office, and it is encouraging that the hard work of these families has resulted in historic legislation."
The bill, which was first approved by the state Senate in 2014, proposes a list of 17 conditions that would qualify Pennsylvania residents for legal marijuana, including AIDS, epilepsy, PTSD, cancer and multiple sclerosis, reported the AP. The bill will legalize consuming marijuana in "pill, oil, vapor or liquid form," according to the AP, but patients won't be able to legally smoke it.
The program likely won't be up and running for some time, but a provision in the bill would allow for parents of patients in Pennsylvania who are under 18 to legally buy marijuana in other states, reported the Philadelphia Inquirer.
Pennsylvania mother Cara Salemme was one of the parents who lobbied the state Legislature in support of the bill. Her son Jackson has epileptic seizures — and now her family will have a whole new range of legal treatment options for him. "It's your child," she told the Inquirer. "What else are you going to change the world for?"