This New T-Shirt Will Let White Men Communicate With Anyone, Anywhere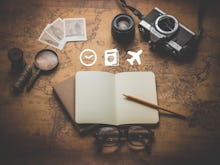 Desperately seeking a bathroom on the streets of Myanmar but don't speak Jingpho? Never fear. With your IconSpeak T-shirt, just find a local and frantically point to the bathroom symbol.
IconSpeak T-shirts are adorned with 40 essential travel symbols, allowing white men to simply point to the image of what they need. 
It was set up by three self-identified "Swiss pen-pushers, wannabe explorers," George, Steven and Florian. 
After experiencing some major setbacks traveling — like one of their motorcycles breaking down in a deserted part of Vietnam — they came up with a solution to the language barrier: a T-shirt with the most needed icons, so you can always have it on you. 
These indicate the need for a hotel, medical assistance, the train station, mechanics' tools and a bathroom, among other things white men (and apparently only white men) need.
"Many times we were confronted with a language barrier that was only to be overcome by drawing signs, symbols or icons on a piece of paper, map or into the dirt," the co-founders wrote on their blog. "We thought it would be great to have an essential set of icons with you, permanently, so that you could just point on whatever you need — and people would understand."
The original T-shirt is available for $33, but they have since branched out and now offer bags, hats, sweaters and tank tops — which are apparently best worn by sombreroed white men traversing Mexico.
While the purpose of all the symbols is not entirely clear — a peace sign for... convincing opposing forces to lay down their arms??? — we assume it's well-intentioned like the rest of the shirt.
So next time you're stuck in the snowy woods in the middle of the night and need a place to stay, chill out. Find the local lumberjack and just point to the bed symbol...