Corey Lewandowski, Trump's Campaign Manager, Won't Face Battery Charges After All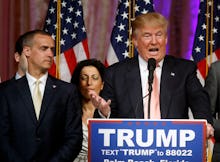 A Florida prosecutor has opted not to move forward with a battery charge facing Corey Lewandowski, the campaign manager for Republican presidential frontrunner Donald Trump.
The case, stemming from Lewandowski's alleged assault of reporter Michelle Fields after a Trump election-night speech on March 8, roiled the presidential race when Jupiter, Florida, police arrested the sharp-elbowed political operative for misdemeanor battery on March 29.
Read more: Did Donald Trump Forget an Important Detail About Former Penn State Coach Joe Paterno?
While issuing the arrest warrant was proper, Palm Beach County prosecutors said in documents cited by NBC News on Thursday, "the evidence cannot prove all required elements of the crime alleged and is insufficient to support a criminal prosecution."
Trump lent his full-throated support to Lewandowski after the battery charge was leveled.
Fields alleged that Lewandowski left her bruised after he forcefully grabbed her arm following Trump's speech, as Fields, then a reporter for Breitbart, attempted to ask Trump a question. Speaking to reporters after Lewandowski's arrest, Trump suggested Fields' arm bruises may have been sustained before her encounter with Lewandowski.
While Trump defended Lewandowksi as "a very decent man," the operative has since seen his standing in Trump's campaign decline, Politico reported, with delegate-wrangler Paul Manafort and deputy campaign manager Michael Glassner becoming increasingly influential.
On Wednesday, Trump's campaign announced the hire of Rick Wiley, who managed Wisconsin Gov. Scott Walker's ill-fated presidential bid. Wiley will serve as Trump's national political director.
In a statement on Thursday, the Trump campaign lauded the decision not to prosecute Lewandowski and pronounced the matter "concluded."