10 Female Pop Stars Who Have Sung About "Self Love" — aka Masturbation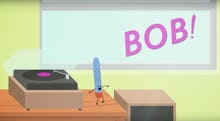 Acknowledgement of female sexuality is one of the many topics included when we talk about gender equality. Women are often expected to be relatively chaste beings, in comparison to men who are free to express their sexuality however they want to. This binary is also present in the music industry; female artists who express their sexuality, whether it's through their music and/or attire, are slut-shamed.
But women shouldn't be ashamed for "loving themselves," nor should they be policed on how they can or should express themselves sexually. Here are ten female artists who've sung about self love, more plainly known as masturbation.
Read more: This Man Is Busting Female Masturbation Taboos by Pairing Classic Art With Vibrators
1. "She Bop" by Cyndi Lauper
Hey I've been thinking of a new sensation
2. "Oops (Oh My)" by Tweet featuring Missy Elliott
I looked over to the left
3. "B.O.B." by Macy Gray
B is for "battery"
4. "Feeling Myself" by Nicki Minaj featuring Beyoncé
Bitch, never left but I'm back at it, and I'm feeling myself, jack rabbit
5. "Touch of My Hand" by Britney Spears
'Cause I just discovered
6. "You're Makin' Me High" by Toni Braxton
I'll always think of you
7. "Fingers" by Pink
When it's late at night and you're fast asleep
8. "If" by Janet Jackson
How many nights I've laid in bed
9. "Body of My Own" by Charli XCX
I don't need you, my touch is better
10. "Icicle" by Tori Amos
And when my hand touches myself