New Study Shows "No Differences" in Kids Raised by Same-Sex Parents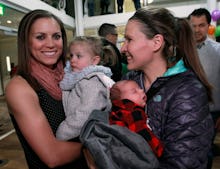 Yet another study has confirmed what most people already knew — families with same-sex parents, are, well, like any other family.
A study conducted by researchers from the Williams Institute at the University of California, Los Angeles School of Law, the University of Amsterdam and Columbia University has found that "households with same-sex parents show no differences from those with different-sex parents with regard to spouse or partner relationships, parent-child relationships, or children's general health, emotional difficulties, coping and learning behavior," according to an announcement Monday by the Williams Institute.
The study matched 95 same-sex parent families with 95 different sex parent families based on criteria like education, location and race, and found no differences between the children based on whether they had same-sex parents.
"This study is the first to use a nationally representative survey to compare the two types of households by focusing only on those with parents that have been in a continuous relationship," lead author Henny Bos said in a press release.
By comparing demographically similar families using national data from the 2011-2012 National Survey of Children's Health, the study was able to address what ThinkProgress calls "the primary accusation against the plentiful research supporting same-sex parenting ... that the samples are skewed." 
However the study did find one difference between families with same sex parents and families with different sex parents: the same sex parents were more stressed out. But this could, ironically, be a result of the "cultural spotlight on child outcomes in same-sex parent families," study co-author Nanette Gartrel said. "Some of our earlier studies have shown that lesbian mothers feel pressured to justify the quality of their parenting because of their sexual orientation."
Read: This Man's Joke About Pat McCrory's Anti-Trans Law Went Viral, But He's Not Laughing