Stone Fox Bride Teams With Eloquii For New Plus-Size Bridal Collection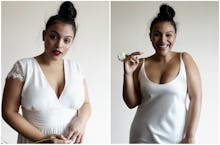 Stone Fox Bride is known for wedding gowns that are equal parts modern and romantic. Brides on its website often wear flower crowns. Sleeves are often bell-shaped. The kind of woman who may be drawn to them might be similar to Marnie on Girls who (spoiler alert) wore a Stone Fox gown early in the show's fifth season to achieve an effortless, bohemian look.
Now, more women than ever can look like Marnie on their wedding day because the brand is teaming up with plus-size clothing company Eloquii for a collection of five gowns available from a size 16 up to a size 24. (Usually, sample gowns in its New York City boutique are a size 6 or 8, and gowns on its website are available from a size 2 to a 12.)
The Eloquii for Stone Fox Bride collection is comprised of five of the brand's most popular and flattering dresses that all abide by Stone Fox's carefully curated aesthetic. And yes, the dress that Marnie wore on Girls is one of them. 
This is not only a big step for Stone Fox, but a massive step in terms of plus-size bridal, a hugely underserved sector of the bridal market. After all, David's Bridal cast its very first plus-size model in a campaign just this December. 
"I had been taking appointments at Stone Fox for about four years now," Molly Guy, Stone Fox Bride's creative director, said in a phone interview. "And I caught myself having to tell brides, 'The dress will be like this when it fits,' because we couldn't really show them because the gown wasn't close to fitting them. That's why I've always wanted to push for dresses in a bigger sample." 
Read more: Meet the Woman Making Sure Plus-Size Brides Get the Wedding Inspiration They Want
Via conversations with friends, she was put in touch with the plus-size brand Eloquii earlier this year, and a partnership was born. 
"What we talk about every day is that every woman should have access to great styles and inspiration and that's even more so on her wedding day," Jodi Arnold, Eloquii's creative director, said in a phone interview. "We had talked about bridal and then this came up." 
According to Arnold, the problems plus-size brides currently face are having to both custom fit their gowns (which means it's all the more expensive) and choose from styles that aren't so modern. These gowns attempt to fix that with one dress coming in a bold shade of pink and another that's knee-length.
"What I wanted to give my brides and fans and women who might not feel typically alienated by the wedding space is unique gowns they would love," Guy said. "I hoped that we could provide a romantic/bohemian/punk feeling to them. I know that my brides just want to look really beautiful and cool and really comfortable." 
Arnold says that plus-size bridal wear is coming into the mainstream slower, perhaps, because there are several construction aspects to take into consideration. 
"It's a lot more learning around technical fitting but then again, I think everything's changing and this is the new normal," Arnold said. "Eventually, they're going to have to learn." 
What has to be considered moreso for brides size 14 and above is that these women may have to wear a bra, making thin, itty-bitty straps impractical. If a dress has a low back, then maybe that wouldn't be so good to wear a bra with either. Defined waists can also be a problem, since they may ride higher on a woman with a larger bust. All those things have to be considered, but it's not out of the realm of possibility for a designer who's skilled enough to design a wedding gown in the first place. Before Stone Fox and Eloquii, the online store ModCloth launched a bridal collection available up to a size 30. 
"I think we're living in a much more inclusive world when it comes to fashion and pop culture in general," Guy said. "I hope to see more of it moving forward."