This Powerful Photo Series Sheds New Light On Working Breastfeeding Mothers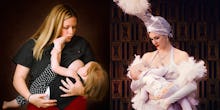 When photographer Tara Ruby photographed ten active military mothers breastfeeding their children seven months ago and uploaded the image to Facebook, it lit a match under the breastfeeding debate, opening the conversation up not only to members of the military, but working mothers who breastfeed nationwide. 
After countless women wrote to Ruby, praising the photoshoot and sharing their own experiences of  breastfeeding their children while working in positions that require uniforms, Ruby envisioned a powerful photo series and got straight to work. 
Ruby enlisted a teacher, a delivery nurse, a Las Vegas performer and an airman for a follow-up photo series showing women in their unique uniforms while gently holding their children as they breastfeed. Some of the breastfeeding children are still babies, but Ruby felt it important to show what it's like for a mother who continues to breastfeed their child as they continue to develop after infancy. 
Reflecting on the series with Cosmopolitan, Ruby said the nurse was one of her favorite photos to capture. "The nurse I absolutely love," she told the publication. "I thought it was really funny, because it shows just how crazy it is when you start nursing an older child. The whole time she had to have her foot up in mom's face! 'This is exactly what she does every time we nurse,' she told me."
"I feel like sometimes people have to make that decision between going back to work full-time and staying at home so they can breastfeed full-time," Ruby continued. "You can work a full-time job and breastfeed and do both equally well. If this is supporting someone out there, then let's do it."
Ruby also shared the story behind the Las Vegas performer's photo shoot, which was shot outside and attracted a group of onlookers. 
"What? A Vegas showgirl. You got it. This momma dressed her little guy up like the great Elvis, and nursed him on Freemont [Street] in Las Vegas for me," Ruby captioned the above photo. "We might have drawn a crowd, and they gave her and I both such words of support."
The photos, some being shot outside, others taken in the workplaces of the women involved, represent an important message about the breastfeeding debate: this isn't just about freeing the nipple, it's about allowing working mothers to continue supporting themselves, as well as their children, wherever they may be — even if it involves wearing a uniform in the process.