Emilia Clarke Says It's Time for 'Game of Thrones' to Free the Penis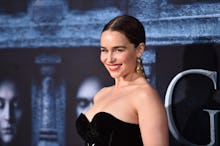 Get the five stories that will challenge you to rethink the world by signing up for MicCheck Daily.
Emilia Clarke has a blunt message for her Game of Thrones bosses: 
#FreeThePenis
Best known for playing Daenerys Targaryen on the HBO series, she all but created the new hashtag Thursday on Conan when the two were discussing the series' inequality between male and female nudity. 
"There's plenty of female nudity, myself included, and I feel like ... I think we should get some equal male nudity and female nudity," she told host Conan O'Brien of the show. 
Read more: 'Game of Thrones' Season 6 Photos Confirm Who Is Alive — And Maybe Who's Not
"Free the penis," she said later, to which O'Brien responded that they had already tried unsuccessfully at his office. 
Clarke, who plays one of the many, many pretenders to the Iron Throne of the seven kingdoms, opened up on the topic of nudity at length in a wide ranging interview with Glamour earlier this month. Glamour was particularly intrigued about the endowments of her season one first husband, Khal Drogo; Clarke offered an intriguing new theory as to why it was never revealed. 
"I saw his member, but it was covered in a pink fluffy sock, she said. "Showing it would make people feel bad. It's too fabulous."